Bestfriend, Rain and Shoes!
I decided to copy my bestfriend's power of three title. I've got to say, it's pretty impressive. Goes straight to the point.
Bestfriend; i love this girl. She's really stupid at times though :) hahaa. She came round mine this morning as we had study leave and we were suppose to be studying but we played MarioKarts instead and I completely destroyed her!! It was hilarious. Oh! we also have Dominoe's pizza (bbq texas) and it was amazing, but as you will probably know, if you read the entry below, that the woman from dominoes, pissed me off. She does not deserve to be working there. Anyways, we went to take the exam we had in the afternoon and came back. We were absolutely SOAKING as it rained. Hard. and she splashed me with a puddle. I love playing in the rain, I always did it in Philippines. Whenever it rained there, I would always take a shower outside. I miss my home country ;'(
ANYWAYS, we were totally borrowing eachothers clothes. Hahaa, I love friends that share everything including clothes.
You guys should check her blog: vintage-pink.over-blog.com
Saranghae Chingu-ah! <3
Rain; more about the rain... it was wet, and cold... and our shoes were absolutely drenched! I love the rain, I love listening to it falling on the conservatory of my house and onto the roof aswell. I always love cuddling up in my duvet watching shit and enjoying the warmth of it.
Shoes; OMG! This guy I know, has bought these Kurt Geiger shoes that I totally love and I don't know what to do? It's going to be really awkward and I wouldn't know what to do. To be honest, I'm just scared that he'll want something back for it, or that he'll kidnap me or something :L I'm really greatful though, because I love the shoes but I don't know wether to accept it! They were quite expensive although they were on sale. I won't dwell on it too much or much more horrific scenarios in my head will occur.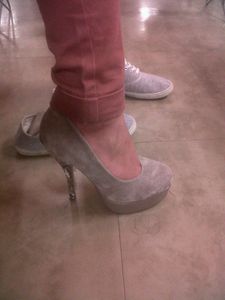 Those are the babies now. I love them! <3
I'm going to finish my film, Down with Love, and then maybe watch Vampire Diaries :)