Today was so good! It was so hot I thought I was going to melt, but I'm not going to complain. :)
Today I did many things! I went to church because I hadn't gone in three weeks and then right after my mum dropped me off to town. I was wearing Chinos, Flats, short sleeved top and a cardigan and let me tell you, that was the worse decision of my life! I had checked, in the morning, what the temperature would be today and it said that it would go up to 27 degrees celsius but I didn't listen and had to wear chinos because the day wasn't looking so sunny in the morning -.- Boy, was I so wrong!
Anyway, I entered town and I was not feeling good. The sun had come out and I was feeling oh so very stuffy so I decided to buy a dress with the money I got from my confirmation. (I can't believe my cousin got over £1000 for his confirmation and I got 3/10 of his -.-) Anyway, I bought the following things: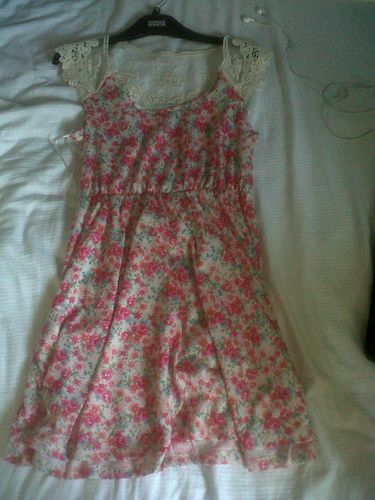 A Dress: It's very pretty and it looks prettier on. It's from New Look and it's a floral print with lace design on the shoulders that stretches out to the back. It's also cinched at the waist beneath your chest to show off a bit of figure. The lighting doesn't show it but it's made up of bright, summery colours which are different shades of pink and baby blue. It falls quite high up your thighs which is perfect for the summer. It was around £16 which I think is a very good deal :) I'm really into vintage-y dresses especially once that have the floal design or lace on it, I think it looks elegant and cute.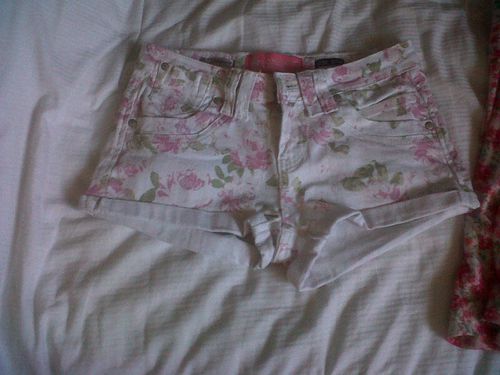 Shorts: I bought these shorts from New Look aswell and they are only slighly more expensive than the dress. It's around £18 but I think they are worth it. It's another floral print (I told you I'm into those >.<) and they are short-shorts. I'm not kidding how short they are, they're like hot pants, but Oh well. It's perfect for really really hot weathers like today! As all clothes, you can't really tell unless you've tried it on, but I assure you that these look Hot on :) They make my thigh's look HUGE though, but that is only because I have fat thighs. I recommend these.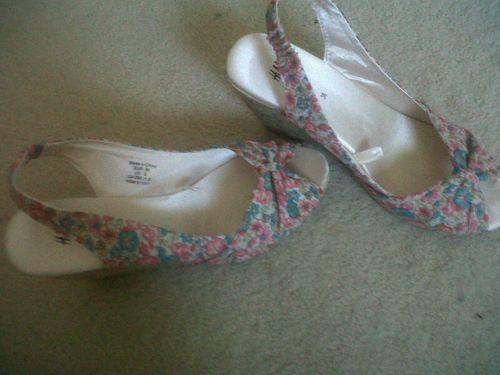 Wedges: Last but not least, I bought these wedges from H&M and they're only £15. They're ... floral prints ... Again. (don't blame me, i love florals). You probably can't see it but they are wedges. I just havn't taken a very good picture of it >.< Next time, I wear these, you'll be able to see. These babies are really comfortable and I love them very much BUT they're slingbacks and everytime I take a step they slip off the back of my feet -.- Which really takes my patience but I decided I would take them to the cobblers so they can shorten the sling but that means I have to wait so I'll probably buy one of those gel things so that the sole of your feet don't hurt. Apprently that works.
WOW! I know I've written loads but this can be compensation for not writing yesterday. Well, hope you weren't too bored hahaa.